"I participated in an Influencer Activation on behalf of Influence Central for MedImmune. I received a promotional item to thank me for my participation."  #MC #RSVAwareness #PreemieProtection

 Did you know November 17th, 2014 is World Prematurity Day ? This is the perfect time to discuss, get educated and SHARE the details of RSV as Preemie children born 35 weeks or less are more at risk. RSV or Respiratory Syncytial [sin-sish-uhl] Virus is a contagious viral respiratory disease that may infect a person's lungs and breathing passages that spreads as fast and as easy as the flu.
Did You Know:
RSV is contracted by nearly all children by the age of 2
It's one of the leading causes of hospitalization for babies during their first years
Can you believe even though it is so common and has been around for a long time 1 out of 3 Moms have never heard of RSV (we had never heard of it until our son was infected)
People of any age can get RSV, but later infections are generally less severe
Preemie born children, elderly and adults with chronic heart & lung disease or with weakened immune systems are more at risk for contracting and having severe case of RSV
RSV spreads fast among children and is very contagious. Most children will catch RSV by the age of 2 yrs old. Typically RSV epidemics occur November thru March, but will vary depending on your location. While common RSV causes mild to moderate cold type symptoms and generally clears up in 1 to 2 weeks, children that were born prematurely (35 weeks or less) whos lungs were not able to fully develop are more susceptible to complications, and are at a higher risk.
Signs and Symptoms of RSV:
Your child will start to get sick about 4-6 days after being infected, with typical mild to moderate COLD symptoms (coughing, sneezing, fever, etc). While most recover within 1-2 weeks, children can still spread the virus for 1-3 weeks. RSV is seasonal like the flu.
Always consult your childs doctor, they will better know your childs risk and If at anytime you notice any of these symptoms Contact Your HealthCare Provider Right Away:
Coughing or Wheezing that does not subside or go away
Fast/Troubled Breathing
A fever (especially if it is greater than 100.4°F in infants under 3 months of age)
A bluish color around the mouth or fingernails
Spread-out nostrils and/or a caved-in chest when trying to breathe
Gasping for breath, or trouble breathing
RSV can become severe and worsen creating issues like Bronchiolitis and Pneumonia. So ALWAYS talk to your doctor to find out if your child is at risk or if you suspect they have RSV. There is NO cure for RSV
 Help Prevent RSV:
Share RSV info with friends and family to help educate them
Wash your hands thoroughly before touching or picking up your baby or child. Teach your children to wash there hands thoroughly and often (I know easier said then done )
Clean and disinfect surfaces
Cover your coughs and teach your children to do the same
Teach your little ones to avoid touching their face with unwashed hands
Don't smoke or allow smoking in your home or near your children
Wash your childrens clothes, toys, linens, counters, faucets and anything else that they have exposure to often (I know, I know also easier said than done)
Stay away from crowds, young children and others with colds or sickly symptoms
Consult with your doctor and ask questions regarding the risk to your child
My Experience with RSV:
In 2010 our son (who was 3 at the time) caught RSV we're assuming while at pre-school. He was not a premature birth, but was delivered by C-section. Unfortunately, he acquired a severe case and it turned directly into Pneumonia. We remembered what our pediatrician always told us "In younger children, always watch their demeanor/mood/behavior for signs, not just their symptoms". Sure enough our son who is quite energetic and lively, got very quite almost to a point of lethargy, didn't want to eat or drink. Though we were able to treat his symptoms initially, we took him into the doctors because we were concerned of him becoming dehydrated and his mood was scaring us a bit. His doctor admitted him to the hospital right then and there and advised us he had RSV & Pneumonia.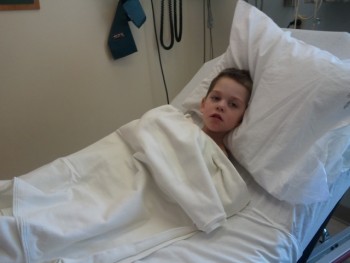 Scared was an understatement as this, at the time was our first and only child, and to see him placed in Isolation (due to how contagious and easily spread RSV is) and for all visitors to have to gown up from head to toe was unsettling at best. Given this is not the norm with RSV, and was a more severe case. I definitely do not want to scare or bring fear, but instead spread the word and educate. We also found out our son was allergic to Penicillin during that hospital stay, so you could say it was a small nightmare. He recovered and was able to be released about 6 or so days later. He had oxygen at home, a nebulizer with breathing treatments and had to take it easy for a few days otherwise he is your typical healthy young boy. For my husband and I on the other hand, we were a mess! Talk about wanting to put your kids in a bubble before sending them out to school!!! Thanks to our sons pediatrician and the wonderful hospital staff who educated us throughout his treatment we are more confident now on prevention and dealing with RSV.  My husband and I both contracted RSV from our son and it was like having an ugly cold. So don't be afraid of RSV Be Informed!! Share the information with other parents.
You can find more information about RSV at:
Click the link below for a PDF Infographic

Disclaimer: Any and All content on the OnceAMomAlwaysAMom.com Website, including: text, images, or other formats were created for informational purposes only. The Content is not intended to be a substitute for professional medical advice, diagnosis, or treatment. Always seek the advice of your physician or other qualified health provider with any questions you may have regarding a medical condition. Never disregard professional medical advice or delay in seeking it because of something you have read on this Website.

Help us Share, Educate and Tell a Friend!
The following two tabs change content below.
I'm a MOM first and foremost, a wife, a sister, a daughter and granddaughter.... Hoping to bless you with some kindness, inclusiveness, love, prayer and fun at OnceAMomAlwaysAMom.com visit often and stay in touch!
Latest posts by Erin Howard (see all)