There are a million people out there trying to convince you that mothers want another necklace, computer or a glitter-covered card. But really what a mother needs is time.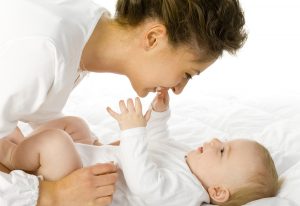 This can be easier said than done, but with California's Paid Family Leave Program, mothers can take up to six weeks with partial pay to bond with a new child, including foster or adopted children.
Whether it is her first Mother's Day and she is still adjusting, or this her third child and she has the drill down, time with her child may be the perfect gift because:
1. Moms can't get those lost moments back.
A mother's time with her child is irreplaceable. Whether it's a newborn without any teeth or a six year old in a brand new home, mothers want to be there. Those moments together matter.
2. It's the gift that keeps on giving.
Being gifted time through the Paid Family Leave program means that families can both save and earn money. If a mom receives flowers for Mother's Day, the investment will eventually end up in a compost bin. If a mom uses Paid Family Leave to be with her child, she can earn part of her paycheck and gain the valuable moments that this time has afforded.
3. Having the time to do what's needed is rare.
Being a mother means being responsible for someone else's life, and that can sometimes feel a little hectic. Taking time to focus on one thing at a time is a relief on all fronts.
4. She's guaranteed to love it.
With time, there is no need to worry that the mother might not like the color, size or style. Time is open and versatile, and moms will know their needs are being understood.
5. You can't put a price on time.
When it comes down to it, time doesn't have a dollar amount. Time is what a person makes of it, so give it to a mother this Mother's Day who will take it to make priceless memories with her new child.
Written By: Christina Burns
Resource: http://californiapaidfamilyleave.com/
The following two tabs change content below.
I'm a MOM first and foremost, a wife, a sister, a daughter and granddaughter.... Hoping to bless you with some kindness, inclusiveness, love, prayer and fun at OnceAMomAlwaysAMom.com visit often and stay in touch!
Latest posts by Erin Howard (see all)