Thanksgiving is usually my holiday. I host and I cook the majority of the food. Not because I have to, or am expected to, but because I'm a bit on the crazy side and really relish all aspects of Thanksgiving cooking. My organization skills get used, my culinary skills are used and best of all I get to feed the people I love. I thrive on feeding people and this is my day to shine.
Now some of you do not feel this way about Thanksgiving, I know, and that is okay. Maybe it's your turn to be the host/hostess, maybe you are the only one able to cook, or just maybe you are a first timer and just need a bit of guidance. Whatever your circumstance, I am here to help you get through that Thanksgiving Day.
Each year I keep a time line of events. When I put the turkey in the oven. What temperature. How large the turkey was and how long it cooked. Whether the turkey was fresh or frozen. I keep my notes. They help me each year organize and remember what I did in prior years. So I have taken those notes and come up with a guide to help you manage your Thanksgiving plan. I even share my Turkey and Gravy recipe below.
Thanksgiving Day TIMELINE:
Decide what time you want to eat and work backwards from that time.
3PM: – Eat
2PM: Plan to remove your turkey from the oven about 1 hour – 45 minutes prior to mealtime. This will allow your turkey to rest and will give you time to heat up the rest of the dishes – if you don't have two ovens, which I do not. Note: do not begin carving for at least 30 minutes after the turkey gets out of the oven…the let juices redistribute. Cover it with some foil.
2:50PM: Carve the bird 10 minutes prior to serving. To avoid dried out turkey.
2:40PM: Bake or reheat your rolls 20 minutes prior to mealtime.
2PM: Put all the sides in the oven: potatoes, green beans, casseroles, yams, etc. about 1 hour prior to mealtime.
2PM: Begin your Gravy around the time you start warming the sides. Here is my gravy recipe:
10AM: Start your turkey. (You may need to adjust the time depending on the size of your bird.) Calculate about 20 minutes per pound. Make sure the turkey is completely thawed.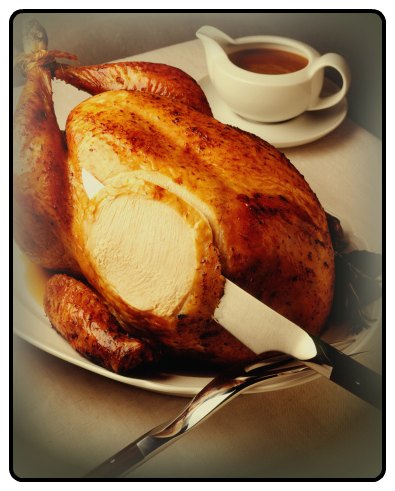 Thanksgiving RECIPES:
ROASTED TURKEY
You can brine the turkey up to 3 days in advance.
Thanksgiving Day: Remove your turkey from the brine and pat it dry inside and out. Allow the bird sit at room temperature for at least an hour prior to roasting. (This will help prevent the meat tightening up when you put it in oven).
Rub your turkey with a mixture of 6tbsp kosher salt, 2tbsp finely chopped fresh sage, 1tbsp finely chopped fresh thyme, 1tbsp finely chopped rosemary, zest of 1 lemon and some freshly ground pepper.
Place your Turkey in a roasting pan. Add fresh herbs: thyme sprigs, sage leaves, rosemary sprigs, bay leaves, marjoram, or get the container of fresh poultry herbs in the produce section, and 2-3 halved lemons and a couple garlic cloves to the cavity. You can add a chopped apple or oranges as well.
Place the turkey in the oven preheated to 425 degrees, for 30 minutes. Turn down the heat to 350 degrees. Add ½ bottle of white wine or two cups of broth to the bottom of the pan. Check the temperature of the bird, with either a turkey or meat thermometer. It should register 165 to 170 degrees in the thigh area, and about 160 degrees in the breast, when done. At the end I will sometimes shield the turkey breast with foil to prevent the skin getting too dark. It will take anywhere from 2 1/2 – 4 hours to cook your turkey, depending on it's size.
The cooking time might vary since all ovens are different, and turkeys are all different sizes, so a thermometer is the best gauge of doneness. When you remove the turkey from the oven, remove it from the pan to a large cutting board and cover with foil and allow it to rest at minimum 30 minutes before carving.
GRAVY
Bits, fat and juice from the roasting pan
4 ½ cups stock (turkey or chicken, homemade preferred, but not required)
½ cup flour
½ cup milk or cream, room temperature
salt and white pepper
McCormick Turkey Gravy Packet (optional)
Heat your roasting pan over two burners. Add ½ cup of turkey or chicken stock and scrape up the bits and juices and fat left from the turkey. Strain into a large measuring cup or glass bowl to allow the fat separate from the jucies.
Skim off ½ cup of the fat and put in a sauce pan over medium heat. Slowly add a ½ cup of flour to make a roux whisking vigorously (if you don't have ½ cup of fat to skim, add butter to make up for the rest). Cook 2-3 minutes whisking to ensure the flour cooks but doesn't burn.
Whisk in a ½ cup of milk or cream. (I find this helps cut through any greasiness), the juices from the roasting pan drippings (without the fat), and 4 cups of broth. I like to also add a packet of McCormick Turkey gravy packet to bump the flavor, this is optional.
Reduce the heat to medium-low and bring to a simmer. Heat the mixture until it thickens.
Gravy too thin: Make a roux of butter and flour in a separate pan, then slowly add the gravy in small amounts, whisking vigorously until you achieve the desired consistency.
Gravy too thick: That's easy, slowly add more stock whisking vigorously until you achieve the desired consistency.
I hope this information finds you well, and I wish you and your family a bountiful Thanksgiving!
The following two tabs change content below.
Amanda Long is the owner of the food blog,
Chive Cooking
. Based in Northern Nevada, Amanda, a mother of 3 has a passion for cooking from scratch and sharing those experiences with children. Specializing in Meal Planning and Consulting Chive Cooking is perfect for everyone. You can also find Chive Cooking on
Facebook
and
Pinterest
.
Latest posts by ChiveCooking (see all)