Well, after one lucky Winner was chosen Nick Lachey did it again!!! He wants to giveaway another Easter basket to another lucky winner. Make sure and tune into  VH1 Big Morning Buzz Live! Check him out on VH1 10am/9 Central 5 Days A Week!!!  I am looking forward to Interviewing Nick, so keep an eye out and Go Enter To WIN below!! GOOD LUCK!
THANK YOU Nick, and HAPPY EASTER to You and Your Beautiful Family!
 Enter to WIN until Sat. April 19th, 2014 at 9pm (PST)!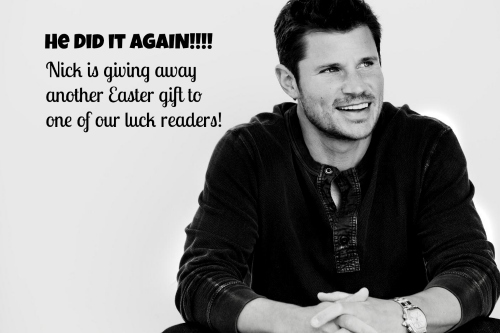 Enter to Win An Easter Giveaway from
1 (one) Winner will Receive an Autographed Copy of A FATHER'S LULLABY by Nick Lachey, A VH1 Big Morning Buzz Live Coffee Mug and Lindt Chocolate – Nick's favorite Easter Candy! (Enter Below)
Open to Residents of the Continental United States.
Always KNOW that your information is private, safe and secure at OnceAMomAlwaysAMom.com I NEVER sell, share, or giveaway anyone's info. I HATE Spam…The only thing your info is used for is for me to verify your Entries into my Giveaways and contact you if you have won. You can read more about my Privacy Policy here. Thanks for participating, & Good Luck!

The following two tabs change content below.
I'm a MOM first and foremost, a wife, a sister, a daughter and granddaughter.... Hoping to bless you with some kindness, inclusiveness, love, prayer and fun at OnceAMomAlwaysAMom.com visit often and stay in touch!
Latest posts by Erin Howard (see all)