Well, we are finally moved and we didn't forget the 2 kids and the dog. Though we definitely realized we under-estimated how much stuff we had until the 1st 26′ moving truck was full. So 2 trucks and a few trailers later our one week moving plans turned into two weeks. My husband and I agree we are not moving again short of the house burning down. We would not have been able to complete the move at all if it wasn't for our family helping watch the kids and the dog. Just trying to unpack with my two little rascals running around shows for a challenge.
We thought we had everything seamlessly planned out with all of the utilities and contractors timed perfectly like a symphony orchestra. Little did we know just how many people in our new area seemed to either dislike their jobs, or just didn't know how to do them. I am not going to name companies but between our Internet & Phone, Satellite TV, and the two Title Companies handling the real estate closing we found either people were rude, uncomfortable to be around and did very shotty, lazy work or they just didn't know what they were doing and should not have never been out there in the first place. What ever happened to just simple Customer Service and Done Once, Done Right? I am sure it is an isolated situation, but that many mishaps and you start to wonder. A few feedback calls later and all new reps were sent out to fix what the others could not do the first time. OK my venting is complete, with sugar on top!
Thanks to all of you who I left abandon during this 2 week ordeal, I appreciate your patience and support as I have been unplugged, which was not such a bad thing. I forget how emotional moving and change can be, it's almost like starting your life over and saying goodbye to the old life. The last 2 major moves I have made with my husband I have at least one balling episode, poor Anthony as he is a fixer and always tries to help, this time I think he figured out it is just part of my process of moving forward. My husband on the other hand, was definitely having withdrawals with no internet.  Though, now we have a 1/2 acre of land in our back yard fully fenced with a beautiful view of the mountains and river trees which we will be designing into our dream yard and garden for us and the kids. We are so excited about the possibilities, I will be posting some before and after pictures once we get going in the next couple weeks. We are so lucky that we found a good school just up the street from our new home, I love having my kids so close to home it definitely gives me a sense of calm & security.
Seriously though we feel blessed. Over the last 12 months my husbands company was hurt bad from a dishonest team member, we had been aggressively treating our daughters non-cancerous but rapidly growing tumor, we have had every parent & grandparent down with serious health issues…though the old saying "God, will never give you anything you can't handle"  has brought us through it all and we feel thankful, humbled and blessed as we know there are families out there much, much worse off.  Recently, we found this new home and made the decision to relocate our family, my husband has killed himself for 8 months to bring his company back up, we won the battle with our daughters tumor  and were advised after 2 years of treatments and a lot of sleep lost that she is all good, and all immediate family is on the mend = BLESSED!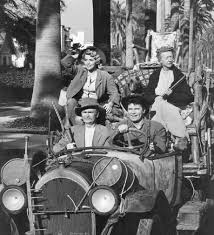 We are looking at the garage full of stuff we had at our other house and trying to figure out how we collected so much (no we are not on the Hoarders TV show yet) and our last home was a bit smaller.  I blame it on having kids, Ha!!! My husband has enough safety stuff he could save a small village, and I've been keeping my sons stuff stuff for my next child…which ended up being a girl, I guess it's time to clear it out.
Well, I LOVE our new office, that I will be sharing with Anthony so now that I am back up and running I have about 200 emails to read and have been getting some exciting new offers to work with some brands you have heard of and some exciting ones you have not, so please stay tuned and tell a friend as we ramp up the next round of Giveaways! Thank you so much for reading, contributing and engaging if it was not for all of you it would not be as fun or worthwhile for me.
How Emotional was your last MOVE?
The following two tabs change content below.
I'm a MOM first and foremost, a wife, a sister, a daughter and granddaughter.... Hoping to bless you with some kindness, inclusiveness, love, prayer and fun at OnceAMomAlwaysAMom.com visit often and stay in touch!
Latest posts by Erin Howard (see all)