I wrote this review while participating in a campaign for Mom Central Consulting on behalf of Playskool. I received product samples to facilitate my party and review, and a promotional item to thank me for participating.
Playskool  gave us another great reason for a playdate recently. They provided our guests and our little ones with some great toys and treats for the kids and we were able to introduce "Lets Imagine Elmo". First off having "Lets Imagine Elmo" as the guest of honor is a must for any playdate. Watching the sparkle in all the little ones eyes was priceless. The way Elmo interacted with the kids with a simple changing of its hats was perfect.
It was nice to have friends over to entertain and play with and we thank those that attended. Our little Gracie could not stop talking about the "Elmo Party" for a week. We all had fun, now trying to get pictures with all the kids , that's a whole other story. Ha!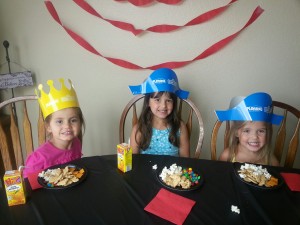 As far back as I can remember Playskool has been making great toys, I know I loved them when I was young and they're still knocking them out of the park today. My husband and I loved the fact that the "Lets Imagine Elmo" was interactive, helping our kids engage, use their imaginations and keeping their attention. The 13-inch plush Elmo has 3 different hats that unlock different playmodes: A Prince, Cowboy and Sea Captain. Our daughter loved the Countin' Cowboy hat and it has her counting EVERYTHING now, and I do mean EVERYTHING!!!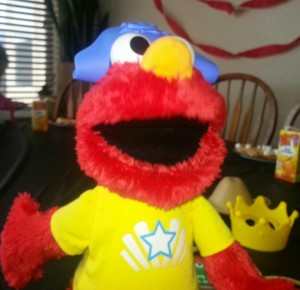 Lets Imagine Elmo is sure to be a huge hit this Christmas as it truly is perfect for little hands and specifically designed to enhance developmental skills through play, parents and children alike will love the 2014 Playskool collection featuring fun and loveable characters. Sunny days are ahead with this colorful 2014 collection of Sesame Street toys from the PLAYSKOOL brand.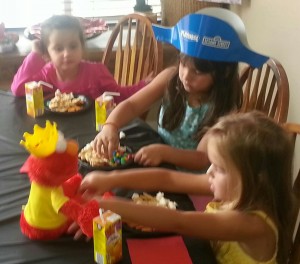 Playskool was nice enough to provide some wonderful toys for the kids including:
Stack N' Spin Monkey Gears: Full of colorful gears to stack and sort all around their monkey friend's belly, then once ready they are able to press the center gear and sit back for some great monkey music, lights and turning gears from their creation. Perfect for those 9 months and up.
Transformers Mixable, Mashable Heroes Optimus Prime and Grimlock:  Think Transformers meets Mr. Potato Head, these pull-apart/put-together mixable toys were something that even attracted the bigger brothers playing in the next room while we were having our playdate. Perfect for ages 2 and up.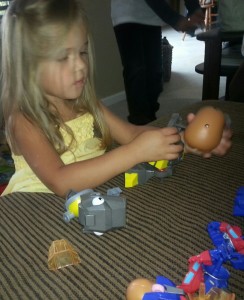 With everything life throws at us as parents there really is no better medicine than to watch your children playing, interacting, learning and developing in positive ways. We thank Playskool for the opportunity to try out their New toys as they were a big hit in our household.
To Learn more about the New "Lets Imagine Elmo" Visit their website today.
The following two tabs change content below.
I'm a MOM first and foremost, a wife, a sister, a daughter and granddaughter.... Hoping to bless you with some kindness, inclusiveness, love, prayer and fun at OnceAMomAlwaysAMom.com visit often and stay in touch!
Latest posts by Erin Howard (see all)