Thanksgiving.  One of my favorite holidays.  The enticing smells of a roasting turkey coming from the oven throughout the day; the traditional aromas of fresh rosemary, sage, and thyme permeating throughout the house; the menagerie of delectable delights piled high on a dinner plate; the smells of clove, nutmeg, and cinnamon while the pumpkin pie is baking; and most importantly, the sounds and laughter of good friends and family while gathered around the dinner table, creating new memories to be remembered for years to come.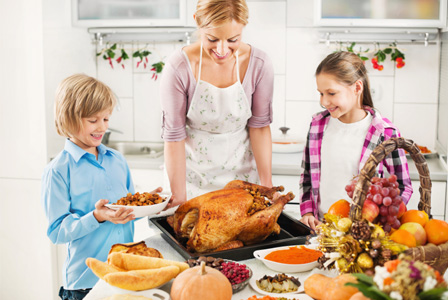 But amidst these fond moments, which iconically define turkey day, a greater feat is occurring; one which often goes unnoticed… the precisely orchestrated choreography of preparing the great Thanksgiving Feast: the timing of the turkey, sides, hors d'oeuvres, and desserts; the shopping; and decorating the house and dinner table.   Successfully executed, all of these items can combine harmoniously together to make an epic and unforgettable Thanksgiving Day dinner; but the most important item needed (the secret weapon, so to speak) to ensure a smooth and successful Thanksgiving dinner comes down to one very simple concept: preparation.
You have probably often heard the culinary term "mise en place," which is a French term translating to, "putting in place."  This term is hugely important in the culinary world.  It not only refers to having your ingredients gathered, chopped, measured, etc. and ready to go when starting to cook, it also refers to the planning and preparation of a dish or meal: reading your recipes ahead of time (usually more than once), going over cooking times and oven temperatures, having the proper cookware and utensils ready for each dish, and gathering the serving dishes and utensils needed ahead of time.
Listed below are some tips, almost a form of a "survival guide," to help you create a stress-free and successful Thanksgiving feast.
Create a Timeline
In culinary school, on day one, we were shown the concept and importance of a timeline.  My chef-instructor explained in a very simplistic way how to create a timeline: start with your ending time, and work your way backwards.  For a broad example, let's say your green bean casserole takes twenty-five minutes to bake, and you're serving dinner at 3:00, you want to get your casserole into the oven around 2:30.  This basic concept can be applied to every aspect of your big turkey day.  Here are some items to consider when mapping out your timeline (I recommend making two timelines: one for the days leading up to the big day, and another one for the day of):
– Cleaning out the freezer and/or fridge before your Thanksgiving shopping to make room for the groceries (especially the bird) and the leftovers
– Pre-Thanksgiving day events (shopping, which includes any utensils or kitchen items needed like roasting pans, table decor, decorations, etc; items being made ahead of time; setting bread out for stuffing the night before; setting the table; and gathering cookware, serving dishes, and all applicable serving utensils.  If you're re-using decorations, make sure they're intact and don't need to be replaced… or if they need to be ironed, like the tablecloth!)
– Prep time needed for each dish
– Cooking times
– Preheating the oven(s)
– Gathering and prepping your ingredients to cook
– Guests' arrival times
– Hors d'oeuvres (prepping, cooking, and serving times)
– Letting the turkey rest before carving (recommended time is 20-30 minutes)
– Letting wine breathe, if applicable
Mise en Place
Now you have a timeline (or timelines) in place, the mise en place will be a bit easier to plan.  I suggest making a mise en place checklist; this helped me greatly the first time I created a turkey day feast.
– Serving bowls and platters, and their utensils (if there are many, labeling them will help differentiate on the big day)
– Cookware and cooking utensils
– Dishes (don't forget dessert plates!), flatware, and glassware
– Ingredients
– Read recipes thoroughly
– Plan oven space and temperatures, and move oven racks if necessary
– Plan space in fridge (for before and after the meal, as well as room for your prepped items like chopped vegetables)
– To help save room in the fridge with your prepped items, I recommend consolidating.  For example: if a recipe calls for chopped onions, celery, and carrots, and all of those items are being added to the recipe at one time, put them in a container together.
Cook items the day, or even days before, to save you time and stress:
– Cranberry sauce
– Stuffing (refrigerate and heat prior to serving)
– Rolls (freeze them, then reheat prior to serving)
– Stocks (turkey, vegetable, etc)
Prep items the day, or even days, before:
– Chop vegetables
– Potatoes (I only recommend doing this the day before, no earlier, and keep them in water to prevent oxidization)
– Brine the turkey
Remain calm:
– There may be mess-ups!  Don't sweat it!  If something goes awry, and it sends you into a panic, I would recommend searching the internet for a solution; there is a vast amount of helpful information that can be obtained by a quick internet search.
– Keep it simple!  There always seems to be a need to amp up the Thanksgiving menu with numerous items and new culinary twists, but at the end of the day, most people just prefer a few classics.  As Julia Child once said, "You don't have to cook fancy or complicated masterpieces – just good food from fresh ingredients."
– On that note, you may understandably want to get creative with a few new items on your traditional Thanksgiving menu this year, or overhaul it completely, but I would recommend only introducing one or two new recipes each year to help take some of the stress off (especially if the recipe turns out to be a dud).
– Serve your feast buffet-style, or family-style on the table so there is no need for intricate plating.
Get help:
– Have kids help with dessert
– Think ahead to see if there are any dishes guests can help you with if they offer their assistance
– Have kids help set the table (Both the kids' table and the adults' table! I used to love helping my mother with this task as a child.)
– If you are having numerous guests and or family members over, have them bring a side or dessert item to help take some of the pressure off you (think "potluck," and create a "sign-up sheet" so you don't have a lot of repeats!)
Keep guests and family entertained until the big feast is ready:
– Football!
– Festive music
– Activities for kids to do (movies, coloring, etc)
Have fun!
– This is, after all, a day of coming together with loved ones, enjoying an incredible meal, and creating unforgettable memories!
I hope you find these tips helpful for a successful and stress-free turkey day this year, and years to come.  These tips can also be applied to most other types of entertaining and dinner parties as well.  I also welcome any tips that you may have found helpful throughout the years!
And finally, I leave you with one more quote from the great Julia Child, which I have found to be very valuable and true…
"Always start out with a larger pot than what you think you need."
Happy Thanksgiving!
The following two tabs change content below.
Devon Fennessy is the creator of the food blog,
The Saucy Culinarian
. Based in Las Vegas, Devon is a recent graduate of the International Culinary Schools at the Art Institute of Las Vegas, with an Associate of Science Degree in Culinary Arts. Passionate about both food and writing, she began her food blog to bring her favorite tid-bits of culinary knowledge and recipes to the world, as well as showcase her work from culinary school. You can also visit The Saucy Culinarian on
Facebook
and
Pinterest
.
Latest posts by TheSaucyCulinarian (see all)