So What Will Keep Your Clothes On The Door and Off The Floor, and Give you Starbucks Coffee at the Same Time?
TH8DANPEQ5D9
You guessed it…. Enter To Win the "Time Saving Bundle" an easy way to hang your clothes while enjoying some coffee!
We are giving away an 8-pack of HangerStation's + a $25. Starbucks Gift Card to 1 lucky winner ! Enter Now Thru May 7th at 3:30pm (PST)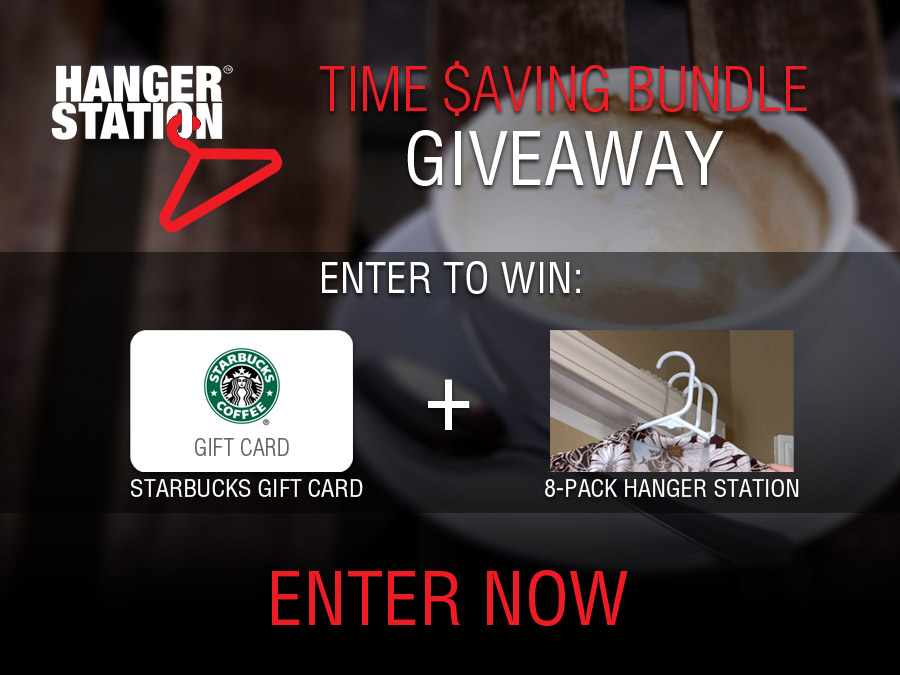 I started using my HangerStation last December and absolutely love them. It is one of those products that you say to yourself "Why Didn't I think of That?!"  Well that is because Mike Owen the inventor took care of that for us. I use my HangerStation's over the kids bedroom doors, my closet door, and I have hallway access doors to my washing machine and dryer where it's so helpful. It allows me to pull my wet clothes out of the washer and hang them instantly.
The HangerStation is perfect for:
Dorm Rooms (have kids going off to college,perfect)
Laundry Room (save more money on dry cleaning& utlities, hang your clothes to dry)
Organizing (these are the perfect space saving accessories)
Stocking Stuffer & Gifts (give these to friends and family as a quick and easy to use gift)
Boats & RV's ( have you seen the size of the closets in a boat or RV, these will be perfect)
They are so easy to use you just peel, stick and hang above any door, they're discreet as no one will know they are there until you need to hang something and use them.  You can hang up to 8 articles of clothing on each one. In this giveaway the winner will receive an 8-Pack of these. Another accessory helping Moms daily, Gotta love it, I do!
Enter the HangerStation – Starbucks Gift Card Giveaway below…
Congratulations to Shayna C. Winner of the Time Saving Bundle Giveaway (8-Pack HangerStation's + $25. Starbucks Gift Card). Thank you to All who entered!
a Rafflecopter giveaway
The following two tabs change content below.
I'm a MOM first and foremost, a wife, a sister, a daughter and granddaughter.... Hoping to bless you with some kindness, inclusiveness, love, prayer and fun at OnceAMomAlwaysAMom.com visit often and stay in touch!
Latest posts by Erin Howard (see all)